Program Info:Return
(Mark O'Connor)
Ear Candy - Episode 117
Upbeat Pop and Rock Songs
Series:
»
# Episodes:
161
»
Most Recent:
18 Jan, 2019
»
Website:
https://www.facebook.com/earcandylocalfm/?ref=hl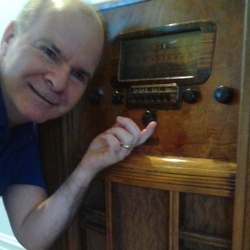 Uploaded by:
Length:
0:57:55
Uploaded:
19 Jan, 2018
Recording Date:
18 Jan, 2018
Recording Location:
CFMH - Localfm - UNB Saint John
Logsheet:
none
Language:
English
Topical for:
Timeless
Status:
Complete, Ready to Air
Copyright:
Creative Commons
Program Title: Ear Candy - Episode 117
Description: Playlist - *means Cancon
Human Spirit - Dolores O' Riordan
Destroyer of the Void - Blitzen Trapper
Fur Hildergard - Devandra Banhart
The Hair Song - Black Mountain*
Submarines of Stockholm - The New Pornographers*
Blue Streak, Mama - Frazey Ford*
Warm Ways - Fleetwood Mac
Baby Loves Me - THE EELS
15 Petals - Elvis Costello
Josephine - DISPATCH
Plan Too Far - Chrissie Hynde
Laundromat Boogie - Buck 65*
Running Away - Tom Hooper*
Host(s): Mark O'Connor
Featured Speakers/Guests:

Credits: Mark O'Connor - DJ
Comments: Ear Candy is a music program of generally upbeat non-hit music both new and old, from artists both unknown to well known.
The idea is to introduce younger audiences to older music they may not know, and to introduce older audiences to lesser known artists and newer music that they may not know.
The emphasis is on catchy music, melodies, musicality, and the show ranges from softer, mellower material to harder blues rock material. In a sense, this is more like radio from yesteryear in that there's a wide range of material as opposed to a narrower range of sounds more common on today's radio stations.
Time references are kept to a minimum so that each episode can be played at any time a radio station sees fit.
Each episode is curated so that each set of songs has something in common sonically, or some other links that make them fit.
Topic:

Arts and Culture > Music


Type: Weekly Program

File Information
Listen
Ear_Candy_-_Episode_117.mp3
Download (17)
Ear_Candy_-_Episode_117.mp3
111,234k
256kbps Stereo
Listen All