Program Info:Return
(Mark O'Connor)
The Probe - Episode #10
UFO Talk Show
Series:
»
# Episodes:
10
»
Most Recent:
10 Mar, 2018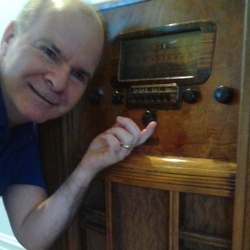 Uploaded by:
Length:
0:58:38
Uploaded:
10 Mar, 2018
Recording Date:
10 Mar, 2018
Recording Location:
Local FM (CFMH), UNB Saint John
Logsheet:
none
Language:
English
Topical for:
Timeless
Status:
Complete, Ready to Air
Copyright:
Creative Commons
Program Title: The Probe - Episode #10
Description: This 10th episode is the final episode of Season 1 of The Probe. Collectively the 10 episodes make for a good summer replacement show or an occasional replacement program.
In this show our intrepid explorers of UFO cases takes on the Kaikoura lights case from New Zealand, a 1978 incident where a news team actually filmed the UFO following the plane they were on.
In addition we do a deep dive into perhaps Ed's favourite movie, 2001 A Space Odyssey. Perhaps that's a a mistake, but HAL says it's always human error!
And musical selections from the movie The Ghost and Mrs. Muir by Bernard Herrmann.
Host(s): Edward O'Reilly, Robert Selby and Mark O'Connor
Featured Speakers/Guests:

Credits:
Comments: The Probe is a 10 Episode talk show that discusses famous UFO cases and the impact ufology has had on our wider culture, especially as in films, TV shows, music, books, etc.
The hosts are not experts in UFOs but explore the subject with genuine and respectful interest, while interacting in often humorous ways. And they enthusiastically discuss the TV shows, films, books and music.
There are 10 Episodes of Season 1 which will be uploaded over 10 consecutive weeks.
Should you wish to be in contact you may reach Mark O'Connor at marocon@rogers.com.
Topic:

Arts and Culture > Film


Type: Documentary

File Information
Listen
The_Probe_-_Episode_10.mp3
Download (2)
The_Probe_-_Episode_10.mp3
140,731k
320kbps Stereo
Listen All