Program Info:Return
(David Owen Rama)
The Lovecast - July 5, 2019 - Roots Version
The Lovecast is a broad spectrum music show that provides a international schizophonic mix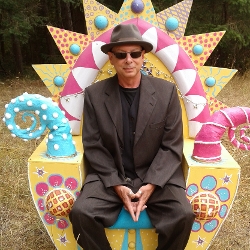 Uploaded by:
@daveorama3000
http://daveorama.com/
Dave O Rama (David Owen Rama) is a broadcaster, writer, DJ, artist, and curator. Over the past forty years Dave...
Length:
2:00:12
Uploaded:
5 Jul, 2019
Recording Date:
5 Jul, 2019
Recording Location:
Crazy Acre Studios, Gabriola island, British Columbia
Logsheet:
logsheet_222072.pdf
Language:
English
Topical for:
Timeless
Status:
Complete, Ready to Air
Copyright:
David Owen Rama
Program Title: The Lovecast - July 5, 2019 - Roots Version
Description: The Lovecast is a weekly two hour broad spectrum music exploration show hosted by Dave O Rama and airing Fridays from 12AM to 2AM on CIUT FM Toronto Canada, focusing on global grooves and funkee schizophonics The program is also rebroadcast on CJMP FM British Columbia, bluesandrootsradio.com, and UbuntuFM
Host(s): Dave O Rama
Featured Speakers/Guests: Eric Bibb - Interview segment

Credits: Dave O Rama: Host, Producer, Research, Interviewer
Comments: This episode of The Lovecast is primarily a selection of roots music with a heavy emphasis on Canadian artists.
Topic:

Arts and Culture > Music


Type: Commentary

File Information
Listen
The-Lovecast-July-5-2019-Roots-Version-Generic
Download (0)
The-Lovecast-July-5-2019-Roots-Version-Generic.mp3
288,509k
320kbps Stereo
Listen All