Program Info:Return
(David Owen Rama)
The Lovecast - September 6, 2019 - Guest: Reverend Peyton
The Lovecast is a broad spectrum music show that provides a international schizophonic mix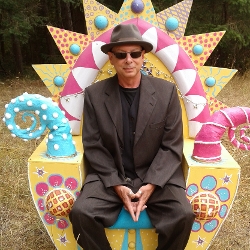 Uploaded by:
@daveorama3000
http://daveorama.com/
Dave O Rama (David Owen Rama) is a broadcaster, writer, DJ, artist, and curator. Over the past forty years Dave...
Length:
1:58:56
Uploaded:
10 Sep, 2019
Recording Date:
6 Sep, 2019
Recording Location:
Crazy Acre Studios, Gabriola island, British Columbia
Logsheet:
none
Language:
English
Topical for:
Timeless
Status:
Complete, Ready to Air
Copyright:
David Owen Rama
Program Title: The Lovecast - September 6, 2019 - Guest: Reverend Peyton
Description: The Lovecast is a weekly two hour broad spectrum music exploration show hosted by Dave O Rama and airing Fridays from 12AM to 2AM on CIUT FM Toronto Canada, focusing on global grooves and funkee schizophonics The program is also rebroadcast on CJMP FM British Columbia, bluesandrootsradio.com, and UbuntuFM
This week my guest is guitarist and singer, Reverend Peyton, from Reverend Peyton's Big Damn Band. Peyton hails from Bean Blossom, Indiana and plays a blistering form of country blues music in a southern jugband style. The interview was recorded August 2019 at the Cumberland Wild Festival, Vancouver Island, Canada.
Songs by Reverend Peyton's Big Damn band include, Easy Come Easy Go, It Is Or It Ain't, and Let's Jump A Train
Host(s): Dave O Rama
Featured Speakers/Guests: This week my guest is guitarist and singer, Reverend Peyton, from Reverend Peyton's Big Damn Band. Peyton hails from Bean Blossom, Indiana and plays a blistering form of country blues music in a southern jugband style. The interview was recorded August 2019 at the Cumberland Wild Festival, Vancouver Island, Canada. Songs by Reverend Peyton's Big Damn band include, Easy Come Easy Go, It Is Or It Ain't, and Let's Jump A Train

Credits: Host & Producer: Dave O Rama
Comments:
Topic:

Arts and Culture > Music > International


Type: Commentary

File Information
Listen
The-Lovecast-September-6-2019-Reverend-Peyton-Generic-Version
Download (0)
The-Lovecast-September-6-2019-Reverend-Peyton-Generic-Version.mp3
285,441k
320kbps Stereo
Listen All