Program Info:Return
(Amber Goodwyn CJTR)
Art Exercise #11: Message out to the world
Today let's make some signs of encouragement and love to our neighbours. Let's put them facing out i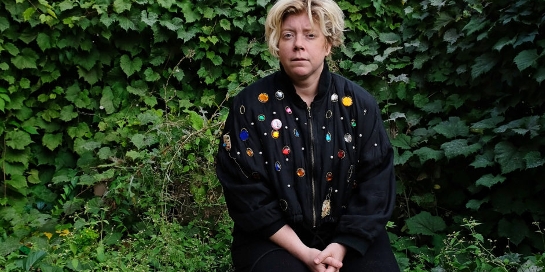 Series:
»
# Episodes:
2
»
Most Recent:
13 Apr, 2020
»
Website:
www.sarahmangle.ca
Length:
0:05:32
Uploaded:
13 Apr, 2020
Recording Date:
24 Mar, 2020
Recording Location:
Logsheet:
none
Language:
English
Topical for:
Timeless
Status:
Complete, Ready to Air
Copyright:
Program Title: Art Exercise #11: Message out to the world
Description: So an extremely cool and fashionable kid I know named Majka made a sign a fews days ago and put it in her window facing out of the front of her house in big colourful letters. The sign said: WE CAN DO THIS.
Today let's make some signs of encouragement and love to our neighbours. Let's put them facing out into the street so everyone can see them. If you're not so much a word person and your more an image person, make a big beautiful image and tape it to your window facing out so that everyone can see it who walks, drives, or bikes by. You could of course make a sign that is both images and words.
Majka made her image with bright solid colours. And she cut out each letter so you could see each letter individually, and more easily read the words. That is a good way to make sure your image can be seen from far. The trick is to make big simple shapes and to make them as big as you can.
Right now we are all working together as one community around the entire Earth to keep people safe and make sure that the people who need doctors and nurses to care for them, they can get the care they need. People are travelling from far away, from Cuba, for example, because they have knowledge and tools, to help people in Italy, who really need their help. And that's because we need to all work together, to hold hope in our hearts, and act with courage, thoughtfulness and patience. And to remember that every person is just as important as you. We are all equally important and valuable, and worthy of love and care.
Here are some examples of what your sign could say:
- I love you
- We can do this.
- Hello
- I have hope for us
- Thank you
- We can work together
I'm sure you can come up with some of your own great words to say to the world. If you are feeling more silly than serious, go ahead and be silly. Being silly brings joy and laughter to the world.
I can't wait to see what you come up with! As always, please send me your photos.
Host(s):
Featured Speakers/Guests: Sarah Mangle

Credits:
Comments:
Topic:

Arts and Culture > Visual Arts
Society and Culture > Childhood


Type: Actuality

File Information
Listen
artexercise11smangle.mp3
Download (1)
artexercise11smangle.mp3
6,659k
160kbps Stereo
Listen All