Program Info:Return
(Trevor Klundert)
Girlie So Groovie -- Episode #1102
Girlie So Groovie -- Episode #1102 -- April 25, 2022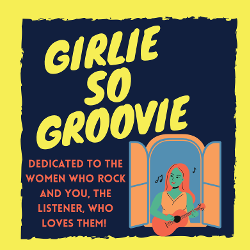 Uploaded by:
http://www.facebook.com/girliesogroovie
Host of Girlie So Groovie Contact: trevorklundert@hotmail.com Instagram: @gsgradio
Length:
1:55:36
Uploaded:
25 Apr, 2022
Recording Date:
25 Apr, 2022
Recording Location:
Windsor, Ontario
Logsheet:
logsheet_268209.pdf
Language:
English
Topical for:
Timeless
Status:
Complete, Ready to Air
Copyright:
Trevor Klundert/Girlie So Groovie
Program Title: Girlie So Groovie -- Episode #1102
Description: Girlie So Groovie dubs itself as "The only show dedicated to the women who rock and to the people who love them!" We are a weekly award-winning syndicated radio program broadcasting on community/campus radio stations across Canada and the US, giving stage to the pioneering and contemporary female and non-binary musicians in rock, punk, rap, hip hop, R&B, blues, jazz, electronic, country, alternative, indie-rock and so much more.
Host(s): Trevor Klundert
Featured Speakers/Guests: Musicians/bands featured this week include: Cibo Matto, Scisser Sisters, Chai, Midnight Sister, Deee-Lite, Indeep, Tune-Yards, LoneLady, Angelique Kidjo, Ladytron, Nimkish, Grimes, Alvvays, Joni Mitchell, Old Soul Rebel, Sleater-Kinney, Meisha and the Spanks, Heart, Nobro, The Duke Spirit, Shannon & the Clams, The Linda Lindas, Thunderbitch, The Runaways, and The Kills.

Credits:
Comments: Cancon totals are always 35% or more.
Please note this is a two-hour program. All PSA/ID's have been removed from the original broadcast. If you prefer the complete show with PSA/ID's, please contact me. Also, if you prefer to have the show broken up into one hour segments, please let me know.
Contact:
trevorklundert@hotmail.com
Instagram: @gsgradio
Facebook: @girliesogroovie
Topic:

Arts and Culture > Music > Indie Rock
Society and Culture > Women
Arts and Culture > Music > Electronic


Type: Weekly Program

File Information
Listen
Trevor Klundert April 25, 2022
Download (10)
Girlie_So_Groovie_April_25_2022.mp3
156,925k
128kbps Stereo
Listen All