Program Info:Return
(Richard Sevigny)
Keith Gray
pianist and music educator Keith Gray
Series:
»
# Episodes:
27
»
Most Recent:
29 Apr, 2020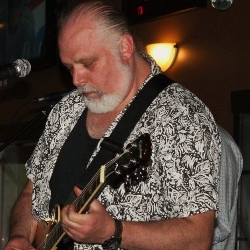 Uploaded by:
Richard is a volunteer radio producer for the Voice of the Shuswap community radio station in Salmon Arm. He has...
Length:
0:55:52
Uploaded:
29 Apr, 2020
Recording Date:
9 May, 2019
Recording Location:
recorded may 9 2019 at Nexus at First
Logsheet:
none
Language:
English
Topical for:
Timeless
Status:
As Broadcast
Copyright:
Program Title: Keith Gray
Description: This week our guest is pianist and music educator Keith Gray, whose career in music happened on an entirely different track from most professional musicians. More on that later. Keith's backed by the latest incarnation of the Jazz Club House band: Jordan Dick on guitar, Dan Smith on bass, and Gareth Seys on drums. For the next hour we'll sample some of the best of jazz's golden period, starting with a song first popularized by Gene Wilder, pure imagination...

Host(s): Richard Sevigny
Featured Speakers/Guests: Interview with Keith Gray

Credits: personnel: Keith Gray - piano, Jordan Dick - guitar, Dan Smith - bass, Gareth Seys- drums
Comments: Originally broadcast on CKVS Voice of the Shuswap 93.7 FM Community Radio
Topic:

Arts and Culture


Type: Weekly Program

File Information
Listen
Airdate_19_05_22_LitS_Keith_Gray_Pt_1_of_4.mp3
Download (0)
Airdate_19_05_22_LitS_Keith_Gray_Pt_1_of_4.mp3
30,294k
320kbps Stereo
Listen
Airdate_19_05_22_LitS_Keith_Gray_Pt_2_of_4.mp3
Download (0)
Airdate_19_05_22_LitS_Keith_Gray_Pt_2_of_4.mp3
38,301k
320kbps Stereo
Listen
Airdate_19_05_22_LitS_Keith_Gray_Pt_3_of_4.mp3
Download (0)
Airdate_19_05_22_LitS_Keith_Gray_Pt_3_of_4.mp3
28,847k
320kbps Stereo
Listen
Airdate_19_05_22_LitS_Keith_Gray_Pt_4_of_4.mp3
Download (0)
Airdate_19_05_22_LitS_Keith_Gray_Pt_4_of_4.mp3
36,719k
320kbps Stereo
Listen All