Program Info:Return
(Richard Sevigny)
Mike Allen quartet
A Sonny Greenwich Tribute
Series:
»
# Episodes:
27
»
Most Recent:
29 Apr, 2020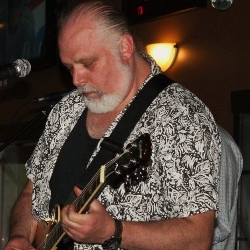 Uploaded by:
Richard is a volunteer radio producer for the Voice of the Shuswap community radio station in Salmon Arm. He has...
Length:
0:55:52
Uploaded:
29 Apr, 2020
Recording Date:
23 May, 2019
Recording Location:
recorded May 23 2019 at the Nexus at First, Salmon Arm
Logsheet:
none
Language:
English
Topical for:
Timeless
Status:
As Broadcast
Copyright:
Program Title: Mike Allen quartet
Description: This week we feature a disciple of John Coltrane; saxophonist Mike Allen, from Vancouver, fronting a quartet playing music inspired or written by Canadian jazz guitar legend Sonny Greenwich who played with the likes of Miles Davis and Hank Mobley.
Host(s): Richard Sevigny
Featured Speakers/Guests: Interview with Mike Allen

Credits: Personnel: Mike Allen - saxophone, Miles Black - guitar, Steve Holy - bass, Dave Robbins - drums
Comments: Originally broadcast on CKVS Voice of the Shuswap 93.7 FM Community Radio
Topic:

Arts and Culture


Type: Weekly Program

File Information
Listen
Airdate_200422_LitS_Mike_Allen_Pt_1_of_4.mp3
Download (0)
Airdate_200422_LitS_Mike_Allen_Pt_1_of_4.mp3
33,570k
320kbps Stereo
Listen
Airdate_200422_LitS_Mike_Allen_Pt_2_of_4.mp3
Download (0)
Airdate_200422_LitS_Mike_Allen_Pt_2_of_4.mp3
36,080k
320kbps Stereo
Listen
Airdate_200422_LitS_Mike_Allen_Pt_3_of_4.mp3
Download (0)
Airdate_200422_LitS_Mike_Allen_Pt_3_of_4.mp3
29,852k
320kbps Stereo
Listen
Airdate_200422_LitS_Mike_Allen_Pt_4_of_4.mp3
Download (0)
Airdate_200422_LitS_Mike_Allen_Pt_4_of_4.mp3
34,664k
320kbps Stereo
Listen All