Program Info:Return
(Richard Sevigny)
Old Guys 2019
Salmon Arm's Elder Statesmen take the stage
Series:
»
# Episodes:
27
»
Most Recent:
29 Apr, 2020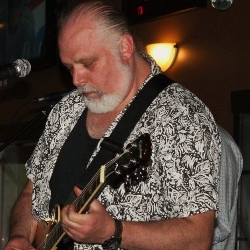 Uploaded by:
Richard is a volunteer radio producer for the Voice of the Shuswap community radio station in Salmon Arm. He has...
Length:
0:55:51
Uploaded:
29 Apr, 2020
Recording Date:
13 Jun, 2019
Recording Location:
recorded Jun 13 2019 at nexus at first
Logsheet:
none
Language:
English
Topical for:
Timeless
Status:
As Broadcast
Copyright:
Program Title: Old Guys 2019
Description: This week we feature what has become a tradition for the Salmon Arm Jazz society... The last concert of the season is when some of the region's elder statemen take the stage as the Old Guys. The core of this group has almost 200 years of experience behind them, with tastes ranging from dixieland to bop.
Host(s): Richard Sevigny
Featured Speakers/Guests:

Credits: personnel: Sandy Cameron - sax & clarinet, Donnie Clark - trumpet & flugelhorn, Bill Lockie - bass, Colin Spencer - piano, Gareth Seys - drums
Comments: Originally broadcast on CKVS Voice of the Shuswap 93.7 FM Community Radio
Topic:

Arts and Culture


Type: Weekly Program

File Information
Listen
Airdate_190626_LitS_Old_Guys_2019_pt_1_of_4.mp3
Download (0)
Airdate_190626_LitS_Old_Guys_2019_pt_1_of_4.mp3
27,971k
320kbps Stereo
Listen
Airdate_190626_LitS_Old_Guys_2019_pt_2_of_4.mp3
Download (0)
Airdate_190626_LitS_Old_Guys_2019_pt_2_of_4.mp3
35,438k
320kbps Stereo
Listen
Airdate_190626_LitS_Old_Guys_2019_pt_3_of_4.mp3
Download (0)
Airdate_190626_LitS_Old_Guys_2019_pt_3_of_4.mp3
45,343k
320kbps Stereo
Listen
Airdate_190626_LitS_Old_Guys_2019_pt_4_of_4.mp3
Download (0)
Airdate_190626_LitS_Old_Guys_2019_pt_4_of_4.mp3
25,393k
320kbps Stereo
Listen All