Program Info:Return
(Richard Sevigny)
Sam Kirmayer trio ft Ben Paterson
MOntreal Guitarist on Tour in support of new album "High and Low"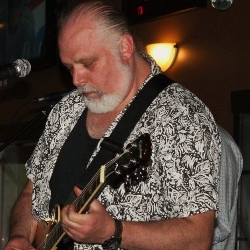 Uploaded by:
Richard is a volunteer radio producer for the Voice of the Shuswap community radio station in Salmon Arm. He has...
Length:
0:55:55
Uploaded:
29 Apr, 2020
Recording Date:
26 Sep, 2019
Recording Location:
recorded 26 sep 2019 at the Nexus at First, Salmon Arm
Logsheet:
none
Language:
English
Topical for:
Timeless
Status:
As Broadcast
Copyright:
Program Title: Sam Kirmayer trio ft Ben Paterson
Description: This week we feature the fretwork of Montreal's Sam Kirmayer, who was included in CBC Music's list of "The 35 Best Canadian Jazz Musicians Under 35".
Host(s): Richard Sevigny
Featured Speakers/Guests: Interview with Sam Kirmayer personnel: Sam Kirmayer - guitar, Ben Paterson - organ, Dave Laing - drums

Credits: Track Listing
01 High and Low (Sam Kirmayer) 8;49
02 What Could Have been (Sam Kirmayer) 7;12
03 Ill Wind (Harold Arlen & T. Koehler) 7;31
04 Recurrence (Sam Kirmayer) 7;30
05 How Am I To Know (Dorothy Parker & Jack King) 7;26
06 Almost Dawn (Coleman Hawkins) 6;53
07 Farnsworth (André White) 3;17

Comments: Originally broadcast on CKVS Voice of the Shuswap 93.7 FM Community Radio
Topic:
Arts and Culture

Type:
File Information
Listen
Airdate_19_10_09_LitS_Sam_Kirmayer_pt_1_of_4.mp3
Download (0)
Airdate_19_10_09_LitS_Sam_Kirmayer_pt_1_of_4.mp3
42,257k
320kbps Stereo
Listen
Airdate_19_10_09_LitS_Sam_Kirmayer_pt_2_of_4.mp3
Download (0)
Airdate_19_10_09_LitS_Sam_Kirmayer_pt_2_of_4.mp3
22,817k
320kbps Stereo
Listen
Airdate_19_10_09_LitS_Sam_Kirmayer_pt_3_of_4.mp3
Download (0)
Airdate_19_10_09_LitS_Sam_Kirmayer_pt_3_of_4.mp3
40,664k
320kbps Stereo
Listen
Airdate_19_10_09_LitS_Sam_Kirmayer_pt_4_of_4.mp3
Download (0)
Airdate_19_10_09_LitS_Sam_Kirmayer_pt_4_of_4.mp3
28,523k
320kbps Stereo
Listen All