Program Info:Return
(Richard Sevigny)
Slide Area
Multi generational Trombone Quartet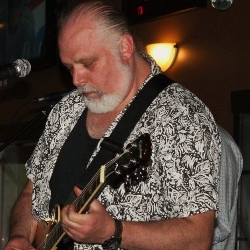 Uploaded by:
Richard is a volunteer radio producer for the Voice of the Shuswap community radio station in Salmon Arm. He has...
Length:
0:55:51
Uploaded:
29 Apr, 2020
Recording Date:
10 Oct, 2019
Recording Location:
recorded oct 10 2019 Nexus at First salmon arm by Gareth Sey
Logsheet:
none
Language:
English
Topical for:
Timeless
Status:
As Broadcast
Copyright:
Program Title: Slide Area
Description: Tighten your seatbelts, gentle listener as we're heading into a Slide Area where I guarantee we'll be facing an avalanche of brass through the combined trombone talents of Gareth Seys, Bob Rogers, Rich Thorne and Gordon Waters.
Host(s): Richard Sevigny
Featured Speakers/Guests: Personel: Gareth Seys, Bob Rogers, Rich Thorne, Gordon Waters - trombones; Jordan Dick - guitar; Dan Smith - bass; Colin Spence - piano; Richard Graham - drums

Credits: T
rack Listing
01 Children of Sanchez (Chuck Mangione, arr. Jim Johnson) 7;48
02 Bluesette (Toots Thieleman, arr. Jim Johnson ) 5;48
03 Es La Verdad (Johnny Blas, arr. Gareth Seys) 7;14
04 My Foolish Heart (Victor Young, arr. Bob Rogers) 5;06
05 Jeremy (Eddie Vedder/Jeff Ament, arr. Gareth Seys) 5;56
06 Pass the Peas (Fred Wesley, arr. Gareth Seys) 7;54
*07 Friday's Song (Gareth Seys)5.27 recorded Dec 11 2015 at Shuswap Chefs by RS

Comments: Originally broadcast on CKVS Voice of the Shuswap 93.7 FM Community Radio
Topic:

Arts and Culture


Type: Weekly Program

File Information
Listen
Airdate_191030_LitS_Slide_Area_Pt_1_of_4.mp3
Download (0)
Airdate_191030_LitS_Slide_Area_Pt_1_of_4.mp3
38,903k
320kbps Stereo
Listen
Airdate_191030_LitS_Slide_Area_Pt_2_of_4.mp3
Download (0)
Airdate_191030_LitS_Slide_Area_Pt_2_of_4.mp3
38,059k
320kbps Stereo
Listen
Airdate_191030_LitS_Slide_Area_Pt_3_of_4.mp3
Download (0)
Airdate_191030_LitS_Slide_Area_Pt_3_of_4.mp3
41,037k
320kbps Stereo
Listen
Airdate_191030_LitS_Slide_Area_Pt_4_of_4.mp3
Download (0)
Airdate_191030_LitS_Slide_Area_Pt_4_of_4.mp3
16,127k
320kbps Stereo
Listen All