Program Info:Return
(Richard Sevigny)
Guitars for Gaw: A fundraiser concert
Local guitarists gather to raise funds for an afflicted comrade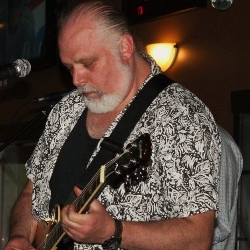 Uploaded by:
Richard is a volunteer radio producer for the Voice of the Shuswap community radio station in Salmon Arm. He has...
Length:
0:55:53
Uploaded:
29 Apr, 2020
Recording Date:
24 Oct, 2019
Recording Location:
recorded Oct 24 2019 at Nexus at First Salmon Arm
Logsheet:
none
Language:
English
Topical for:
Timeless
Status:
As Broadcast
Copyright:
Program Title: Guitars for Gaw: A fundraiser concert
Description: Career musicians often live bohemian lifestyles out of necessity.
The work is often precarious and there are no unemployment, sick, or retirement benefits.
With that in mind, the Shuswap is blessed by a huge musical community with a network of coffee houses and small venues. You attend or play enough of them and you will meet a great many of the Shuswap's notable players. These individuals have an great sense of community and support each other in myriad ways.

Host(s): Richard Sevigny
Featured Speakers/Guests: Personel: Jake Verburg - guitar, Jordan Dick - guitar, Dan Smith - bass, Gareth Seys - drums

Credits: Track listing
01 Big Blues (Jim Hall) 5;11
02 Four on Six (wes Montgomery) 7;31
03 Gimme a Holler (Bill Frissell) 6;52
04 Bright Size Life (Pat Metheny) 5;21
05 Seven-Eleven (Jordan Dick) 6;44
06 Nuages (Django Reinhardt) 6;42
07 Billy's Bounce (Charlie Parker) 3;40

Comments: Originally broadcast on CKVS Voice of the Shuswap 93.7 FM Community Radio
Topic:

Arts and Culture


Type: Weekly Program

File Information
Listen
Airdate_191106_LitS_Guitars_for_Gaw_Pt_1_of_4.mp3
Download (0)
Airdate_191106_LitS_Guitars_for_Gaw_Pt_1_of_4.mp3
37,348k
320kbps Stereo
Listen
Airdate_191106_LitS_Guitars_for_Gaw_Pt_2_of_4.mp3
Download (0)
Airdate_191106_LitS_Guitars_for_Gaw_Pt_2_of_4.mp3
35,990k
320kbps Stereo
Listen
Airdate_191106_LitS_Guitars_for_Gaw_Pt_3_of_4.mp3
Download (0)
Airdate_191106_LitS_Guitars_for_Gaw_Pt_3_of_4.mp3
44,106k
320kbps Stereo
Listen
Airdate_191106_LitS_Guitars_for_Gaw_Pt_4_of_4.mp3
Download (0)
Airdate_191106_LitS_Guitars_for_Gaw_Pt_4_of_4.mp3
16,769k
320kbps Stereo
Listen All