Program Info:Return
(Richard Sevigny)
Mike Field 2019 Episode 1
First of two episodes featuring the globe trotting Trumpet player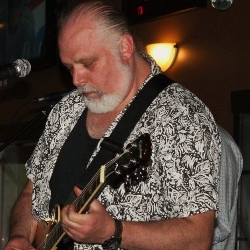 Uploaded by:
Richard is a volunteer radio producer for the Voice of the Shuswap community radio station in Salmon Arm. He has...
Length:
0:55:51
Uploaded:
29 Apr, 2020
Recording Date:
14 Nov, 2019
Recording Location:
recorded at the Nexus at First, Salmon Arm Nov 14 2019
Logsheet:
none
Language:
English
Topical for:
Timeless
Status:
As Broadcast
Copyright:
Program Title: Mike Field 2019 Episode 1
Description: This week we feature the return of that globe trotting devotee of Louie Armstrong, Mike Field, who will regale us with his trumpet, his voice, and his storytelling.
Host(s): Richard Sevigny
Featured Speakers/Guests: interview with Mike Field Personnel: Mike Field - trumpet, vocal, guitar; Justin Glibbery - piano; Stephane Bienz - bass; Stan Sabourin - sax; Mike treadway - drums

Credits: Track listing
Episode 1 (first aired Nov 27 2019)
01 Attic Jump (Mike Field) 6;04
02 There Will Never Be Another You (Harry Warren & Mack Gordon) 6;25
03 The Upstanding Translator (Mike Field) 5;07
04 The Last of the Summer Days (Mike Field) 6;07
05 Tu Vuo Fa L'Americano (Nicola Salerno & Renato Carosena) 3;33
06 The Last Trip Home (Mike Field) 4;21
07 Magnolia (Mike Field) 2;53
08 Bemsha Swing (Thelonius Monk) 4;04
Comments: Originally broadcast on CKVS Voice of the Shuswap 93.7 FM Community Radio
Topic:

Arts and Culture


Type: Weekly Program

File Information
Listen
Airdate_191127_LitS_Mike_Field_epi_1_pt_1_of_4.mp3
Download (0)
Airdate_191127_LitS_Mike_Field_epi_1_pt_1_of_4.mp3
33,469k
320kbps Stereo
Listen
Airdate_191127_LitS_Mike_Field_epi_1_pt_2_of_4.mp3
Download (0)
Airdate_191127_LitS_Mike_Field_epi_1_pt_2_of_4.mp3
36,768k
320kbps Stereo
Listen
Airdate_191127_LitS_Mike_Field_epi_1_pt_3_of_4.mp3
Download (0)
Airdate_191127_LitS_Mike_Field_epi_1_pt_3_of_4.mp3
29,717k
320kbps Stereo
Listen
Airdate_191127_LitS_Mike_Field_epi_1_pt_4_of_4.mp3
Download (0)
Airdate_191127_LitS_Mike_Field_epi_1_pt_4_of_4.mp3
34,166k
320kbps Stereo
Listen All