Program Info:Return
(Richard Sevigny)
Mike Field 2019, Episode 2
A second helping ot the Globetrotting Trumpet player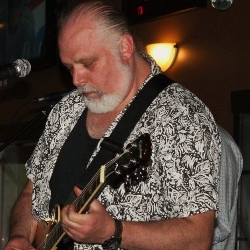 Uploaded by:
Richard is a volunteer radio producer for the Voice of the Shuswap community radio station in Salmon Arm. He has...
Length:
0:55:55
Uploaded:
29 Apr, 2020
Recording Date:
14 Nov, 2019
Recording Location:
recorded at the Nexus at First, Salmon Arm Nov 14 2019
Logsheet:
none
Language:
English
Topical for:
Timeless
Status:
As Broadcast
Copyright:
Program Title: Mike Field 2019, Episode 2
Description: Every so once and awhile I'm fortunate enough to have my guest provide me with enough material to fill two episodes. Such it was when Mike Field, that charismatic acolyte of Louis Armstrong, came to the Nexus at first to regale us with his brand of musical storytelling. Adept at the trumpet and vocals, mike is consummate frontman and composer, turning episodes of his life into fun melodies.

Host(s): Richard Sevigny
Featured Speakers/Guests: Interview with Mike Field Personnel: Mike Field - trumpet, vocal, guitar; Justin Glibbery - piano; Stephane Bienz - bass; Stan Sabourin - sax; Mike treadway - drums

Credits: Track Listing
Episode 2 (First Aired Dec 4 2019)
01 Rush Mode (Mike Field) 5;59
02 Traffic Police (Mike Field) 3;50
03 Dance of the Biometrics (Mike Field) 5;59
04 The Ghost and the Paperboy (Mike Field) 3;24
05 High Altitude (Mike Field) 6;06
06 Play 4 U (Mike Field) 6;22
07 Autopilot (Mike Field) 6;42
08 Softly as in a Morning Sunrise (Oscar Hammerstein II & Sigmund Romberg) 1;04
Comments: Originally broadcast on CKVS Voice of the Shuswap 93.7 FM Community Radio
Topic:

Arts and Culture


Type: Weekly Program

File Information
Listen
Airdate_191204_LitS_Mike_Field_epi_2_pt_1_of_4.mp3
Download (0)
Airdate_191204_LitS_Mike_Field_epi_2_pt_1_of_4.mp3
31,853k
320kbps Stereo
Listen
Airdate_191204_LitS_Mike_Field_epi_2_pt_2_of_4.mp3
Download (0)
Airdate_191204_LitS_Mike_Field_epi_2_pt_2_of_4.mp3
33,129k
320kbps Stereo
Listen
Airdate_191204_LitS_Mike_Field_epi_2_pt_3_of_4.mp3
Download (0)
Airdate_191204_LitS_Mike_Field_epi_2_pt_3_of_4.mp3
39,585k
320kbps Stereo
Listen
Airdate_191204_LitS_Mike_Field_epi_2_pt_4_of_4.mp3
Download (0)
Airdate_191204_LitS_Mike_Field_epi_2_pt_4_of_4.mp3
29,704k
320kbps Stereo
Listen All