Program Info:Return
(Richard Sevigny)
Willy Gaw Memorial Episode
Memorial to a Gypsy Jazz Musician's passing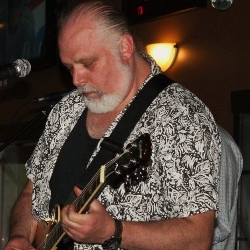 Uploaded by:
Richard is a volunteer radio producer for the Voice of the Shuswap community radio station in Salmon Arm. He has...
Length:
0:55:52
Uploaded:
29 Apr, 2020
Recording Date:
8 Jan, 2020
Recording Location:
voiceovers recorded at LitS studios
Logsheet:
none
Language:
English
Topical for:
Timeless
Status:
As Broadcast
Copyright:
Program Title: Willy Gaw Memorial Episode
Description: The Shuswap lost it's ambassador to Gypsy Jazz as Willy Gaw passed away last November. I had the opportunity to interview Willy back in 2013 as he told tales about Django Reinhardt and his own journey into that lively music. Our chat included a selection of his favorite Django tunes.

Host(s): Richard Sevigny
Featured Speakers/Guests: Interview with Willy Gaw

Credits: Track Listing:
Songs performed by the Quintet of the Hot Club of Frances EXCEPT where noted)
01. Djangology (Reinhardt/Grappelli) 1:09-4:02 (2;53)
02. Billets Doux (Reinhardt/Grappelli) 6:28-9:20 (2;52)
03. After You've Gone (Turner Layton/Henry Creamer) 10:38-13:44 (3;06)
04. Hungaria (Reinhardt/Grappelli) 14:52-17:40 (2;58)
05. Django's Tiger (Reinhardt/Grappelli) 18:43-21:22 (2;39)
06. I'll See You In My Dreams (Isham JOnes/Gus Kahn) 23:27-26:03 (2;36)
07. Them There Eyes (Maceo Pinkard, Doris Tauber, and William Tracey) 27:32-30:32 (3:00)
08. Nuages (Django Reinhardt) 32:30-35:38 (3;08)
09. Si Tu Savais (Django Reinhardt) 37:19-40:03 (3;44)
10. Je Suis Seul Ce Soir by Verburg and Gaw (Roy Turk and Lou Handman) 42:08-46:23 (4;15)
11. Le Soir by Birelli Lagrene (Reinhardt) 47:38-53:45 (6;07)
12. Minor swing (Reinhardt/Grappelli) 54:42-58:00 (only 50 sec used)
Comments: Originally broadcast on CKVS Voice of the Shuswap 93.7 FM Community Radio
Topic:

Arts and Culture


Type: Weekly Program

File Information
Listen
Airdate_200108_LitS_Willy_Gaw_Pt_1_of_4.mp3
Download (0)
Airdate_200108_LitS_Willy_Gaw_Pt_1_of_4.mp3
33,032k
320kbps Stereo
Listen
Airdate_200108_LitS_Willy_Gaw_Pt_2_of_4.mp3
Download (0)
Airdate_200108_LitS_Willy_Gaw_Pt_2_of_4.mp3
38,456k
320kbps Stereo
Listen
Airdate_200108_LitS_Willy_Gaw_Pt_3_of_4.mp3
Download (0)
Airdate_200108_LitS_Willy_Gaw_Pt_3_of_4.mp3
37,343k
320kbps Stereo
Listen
Airdate_200108_LitS_Willy_Gaw_Pt_4_of_4.mp3
Download (0)
Airdate_200108_LitS_Willy_Gaw_Pt_4_of_4.mp3
25,355k
320kbps Stereo
Listen All