Program Info:Return
(Richard Sevigny)
LOH (Lockie/Owings/Herting)
Jazz String Trio (bass/guitar/violin)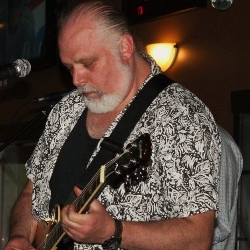 Uploaded by:
Richard is a volunteer radio producer for the Voice of the Shuswap community radio station in Salmon Arm. He has...
Length:
0:55:52
Uploaded:
29 Apr, 2020
Recording Date:
23 Jan, 2020
Recording Location:
recorded Jan 23 2020 at the Nexus at First
Logsheet:
none
Language:
English
Topical for:
Timeless
Status:
As Broadcast
Copyright:
Program Title: LOH (Lockie/Owings/Herting)
Description: This week features LOH, a trio consisting of Bill Lockie, Richard Owings, and Darrin Herting, on Bass, Violin, and guitar respectively. They've put together an evening of standards and originals, some latin and blues, with vocal performances by Bill and Richard.
Host(s): Richard Sevigny
Featured Speakers/Guests: Interview with Darrin Herting personnel: Bill Lockie - Bass, Richards Owings - Violin, Darren Herting - guitar

Credits: Track Listing
01 Pennies from Heaven (Arthur Johnston & Johnny Burke) 5;01
02 Mambo Influenciado (Chucho Valdez) 4;15
03 Corcovado (Antonio Carlos Jobim/Gene Lees) 5;27
04 Frog Weather (Richard Owings) 7;17
05 I Don't Know Enough About You (Peggy Lee & David M Barbour) 3;13
06 Medley: Invention No 15/B Min Blues (J.S. Bach/Jakob Verburg) 7;15
07 Mas Que Nada (Jorge Lima Menezes) 5;08
08 Chanson Dimanche (Darrin Herting) 4;53
09 Armando's Rhumba (Chick Corea) 0;23

Comments: Originally broadcast on CKVS Voice of the Shuswap 93.7 FM Community Radio
Topic:

Arts and Culture


Type: Weekly Program

File Information
Listen
Airdate_200219_LitS_LOH_pt_1_of_4.mp3
Download (0)
Airdate_200219_LitS_LOH_pt_1_of_4.mp3
40,865k
320kbps Stereo
Listen
Airdate_200219_LitS_LOH_pt_2_of_4.mp3
Download (0)
Airdate_200219_LitS_LOH_pt_2_of_4.mp3
34,842k
320kbps Stereo
Listen
Airdate_200219_LitS_LOH_pt_3_of_4.mp3
Download (0)
Airdate_200219_LitS_LOH_pt_3_of_4.mp3
39,303k
320kbps Stereo
Listen
Airdate_200219_LitS_LOH_pt_4_of_4.mp3
Download (0)
Airdate_200219_LitS_LOH_pt_4_of_4.mp3
19,154k
320kbps Stereo
Listen All