Program Info:Return
(Richard Sevigny)
The SHUHORN sextet
Full brass section backed by piano and bass.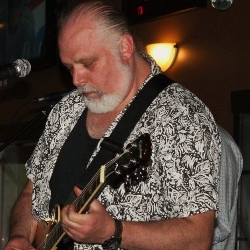 Uploaded by:
Richard is a volunteer radio producer for the Voice of the Shuswap community radio station in Salmon Arm. He has...
Length:
0:55:46
Uploaded:
29 Apr, 2020
Recording Date:
6 Feb, 2020
Recording Location:
recorded Feb 6, 2020 at the Nexus at First, engineer: Colin
Logsheet:
none
Language:
English
Topical for:
Timeless
Status:
As Broadcast
Copyright:
Program Title: The SHUHORN sextet
Description: There's nothing quite like the sound of a full horn section. Each brass instrument imparts its own unique tone as they harmonize, bob and weave around the melody, or provide counterpoint. Sometimes it's lockstep like a marching band, and others it's boiling like a nest of hornets. It can make you wanna dance... or swoon nostalgic..

Host(s): Richard Sevigny
Featured Speakers/Guests: Personnel: Sandy Cameron - saxophone, Terry Kosowick - trumpet, Chris Pettersen - saxophone, Rich Thorne - trombone, Jim Johnson - piano, Dan Smith - bass.

Credits: Track listing
01 Another 3-Putt? (Neil Paul Hefti) 2.43
02 Cantaloupe Island (Herbie Hancock) 5;43
03 Lullaby of Birdland (George Shearing & George David Weiss) 4;40
04 Moanin' (Art Blakey) 4;44
05 Maple Leaf Rag (Scott Joplin) 2;44
06 Satin Doll (Duke Ellington & Billy Strayhorn) 2;58
07 In a Sentimental Mood (Duke Ellington) 4;56
08 Straight, No Chaser (Thelonious Monk) 3;54
09 Cool Walk (Oscar Peterson) 6;38
10 Sweet Georgia Brown (Ben Bernie/Kenneth Casey/Maceo Pinkard) 1;12

Comments: Originally broadcast on CKVS Voice of the Shuswap 93.7 FM Community Radio
Topic:

Arts and Culture


Type: Weekly Program

File Information
Listen
Airdate_20_02_26_LitS_Shuhorn_pt_1_of_4.mp3
Download (1)
Airdate_20_02_26_LitS_Shuhorn_pt_1_of_4.mp3
27,793k
320kbps Stereo
Listen
Airdate_20_02_26_LitS_Shuhorn_pt_2_of_4.mp3
Download (1)
Airdate_20_02_26_LitS_Shuhorn_pt_2_of_4.mp3
38,893k
320kbps Stereo
Listen
Airdate_20_02_26_LitS_Shuhorn_pt_3_of_4.mp3
Download (1)
Airdate_20_02_26_LitS_Shuhorn_pt_3_of_4.mp3
43,319k
320kbps Stereo
Listen
Airdate_20_02_26_LitS_Shuhorn_pt_4_of_4.mp3
Download (1)
Airdate_20_02_26_LitS_Shuhorn_pt_4_of_4.mp3
23,955k
320kbps Stereo
Listen All