Program Info:Return
(Richard Sevigny)
Bob Rogers Studio Bound Episode 1
Trombonist readies the band for a studio session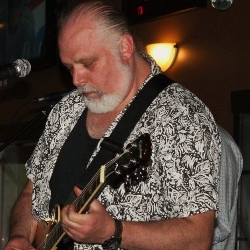 Uploaded by:
Richard is a volunteer radio producer for the Voice of the Shuswap community radio station in Salmon Arm. He has...
Length:
0:55:52
Uploaded:
29 Apr, 2020
Recording Date:
20 Feb, 2020
Recording Location:
recorded Feb 20, 2020 at the Nexus at First
Logsheet:
none
Language:
English
Topical for:
Timeless
Status:
As Broadcast
Copyright:
Program Title: Bob Rogers Studio Bound Episode 1
Description: This week we feature an hour of wholly original tunes written by Revelstoke's Bob Rogers. He's spent the last 10 years writing melodies and arrangements and has
enough compositions to merit recording and release to a wider public.

Host(s): Richard Sevigny
Featured Speakers/Guests: Interview wit Bob Rogers Personnel: Bob Rogers - Trombone, Chris Pettersen - saxophone, Colin Spence - piano, Jordan Dick - guitar, Shannon Sternloff - bass, Trevor Wallach - drums

Credits: All songs composed by Bob Rogers
Part 1
01 That's Gotta Hurt 7;10
02 Dude, Man 7;28
03 Can't Sit Still 5;57
04 She's All That 6;38
05 Minor Five 8;00
06 Whose Blues 7;35

Comments: Originally broadcast on CKVS Voice of the Shuswap 93.7 FM Community Radio
Topic:

Arts and Culture


Type: Weekly Program

File Information
Listen
Airdate_200304_LitS_Bob_Rogers_Band_Pt_1_of_4.mp3
Download (0)
Airdate_200304_LitS_Bob_Rogers_Band_Pt_1_of_4.mp3
40,137k
320kbps Stereo
Listen
Airdate_200304_LitS_Bob_Rogers_Band_Pt_2_of_4.mp3
Download (0)
Airdate_200304_LitS_Bob_Rogers_Band_Pt_2_of_4.mp3
38,227k
320kbps Stereo
Listen
Airdate_200304_LitS_Bob_Rogers_Band_Pt_3_of_4.mp3
Download (0)
Airdate_200304_LitS_Bob_Rogers_Band_Pt_3_of_4.mp3
29,800k
320kbps Stereo
Listen
Airdate_200304_LitS_Bob_Rogers_Band_Pt_4_of_4.mp3
Download (0)
Airdate_200304_LitS_Bob_Rogers_Band_Pt_4_of_4.mp3
26,015k
320kbps Stereo
Listen All