Program Info:Return
(Richard Sevigny)
Bob Rogers: Studio Bound Episode 2
Another hour of Bob Rogers originals as he heads to the studio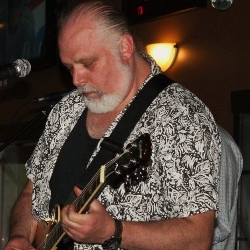 Uploaded by:
Richard is a volunteer radio producer for the Voice of the Shuswap community radio station in Salmon Arm. He has...
Length:
0:55:55
Uploaded:
29 Apr, 2020
Recording Date:
20 Feb, 2020
Recording Location:
recorded Feb 20, 2020 at the Nexus at First
Logsheet:
none
Language:
English
Topical for:
Timeless
Status:
As Broadcast
Copyright:
Program Title: Bob Rogers: Studio Bound Episode 2
Description: This week we'll continue to sample the compositions of trombonist Bob Rogers as he prepares to go into the studio with his hand picked sextet.
Host(s): Richard Sevigny
Featured Speakers/Guests: Interview with Bob Rogers Personnel: Bob Rogers - Trombone, Chris Pettersen - saxophone, Colin Spence - piano, Jordan Dick - guitar, Shannon Sternloff - bass, Trevor Wallach - drums

Credits: All songs composed by Bob Rogers
Part 2
01 Don't Mock the Walk 8;32
02 Bossa Nueva 4;47
03 Slideways Movement 7;33
04 Lemon Squeezin' 6;14
05 Sunday Afternoon 5;37
06 Your Bad Self 8;54
07 Blowdown 6;25

Comments: Originally broadcast on CKVS Voice of the Shuswap 93.7 FM Community Radio
Topic:

Arts and Culture


Type: Weekly Program

File Information
Listen
Airdate_200311_LitS_Bob_Rogers_Band_epi_2_Pt_1_of_4.mp3
Download (0)
Airdate_200311_LitS_Bob_Rogers_Band_epi_2_Pt_1_of_4.mp3
38,148k
320kbps Stereo
Listen
Airdate_200311_LitS_Bob_Rogers_Band_epi_2_Pt_2_of_4.mp3
Download (0)
Airdate_200311_LitS_Bob_Rogers_Band_epi_2_Pt_2_of_4.mp3
36,707k
320kbps Stereo
Listen
Airdate_200311_LitS_Bob_Rogers_Band_epi_2_Pt_3_of_4.mp3
Download (0)
Airdate_200311_LitS_Bob_Rogers_Band_epi_2_Pt_3_of_4.mp3
39,612k
320kbps Stereo
Listen
Airdate_200311_LitS_Bob_Rogers_Band_epi_2_Pt_4_of_4.mp3
Download (0)
Airdate_200311_LitS_Bob_Rogers_Band_epi_2_Pt_4_of_4.mp3
19,805k
320kbps Stereo
Listen All