Program Info:Return
(Richard Sevigny)
Aaron Hardie Quartet, Episode 1
Saxophonist showcases his compsing, arranging, and imporvising skills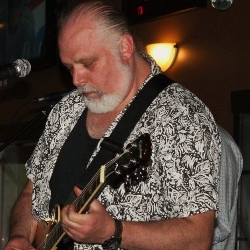 Uploaded by:
Richard is a volunteer radio producer for the Voice of the Shuswap community radio station in Salmon Arm. He has...
Length:
0:55:58
Uploaded:
29 Apr, 2020
Recording Date:
12 Mar, 2020
Recording Location:
recorded Mar 12 2020 at Nexus at First Salmon Arm
Logsheet:
none
Language:
English
Topical for:
Timeless
Status:
As Broadcast
Copyright:
Program Title: Aaron Hardie Quartet, Episode 1
Description: The truth is that most musicians have a day job. Those who are most passionate about learning will themselves make a career teaching others how to play an instrument.
Our guest tonight is one of those music educators who is also a composer , arranger, and passionate improviser. His name is Aaron Hardie and his weapon of choice is the saxophone...

Host(s): Richard Sevigny
Featured Speakers/Guests: Interview with Aaron Hardie. personnel: Aaron Hardie - tenor sax, Craig Scott - drums, Neville Bowman - piano, Bernie Addington - bass

Credits: track listing
Episode 1
01 Lisa (Victor Feldman) 5;31
02 I Have the Conch (Aaron Hardie) 6;56
03 Anywhere (Aaron Hardie) 7;30
04 My Romance (Rogers & Hart) 8;31
05 Hard To Do (Aaron Hardie) 6;58
06 Take it Easy (Aaron Hardie) 5;56
07 Just this Morning (Aaron Hardie) 1;03
Comments: Originally broadcast on CKVS Voice of the Shuswap 93.7 FM Community Radio
Topic:

Arts and Culture


Type: Weekly Program

File Information
Listen
Airdate_200401_LitS_Arron_Hardie_epi1_pt_1_of_4.mp3
Download (1)
Airdate_200401_LitS_Arron_Hardie_epi1_pt_1_of_4.mp3
24,061k
320kbps Stereo
Listen
Airdate_200401_LitS_Arron_Hardie_epi1_pt_2_of_4.mp3
Download (1)
Airdate_200401_LitS_Arron_Hardie_epi1_pt_2_of_4.mp3
41,224k
320kbps Stereo
Listen
Airdate_200401_LitS_Arron_Hardie_epi1_pt_3_of_4.mp3
Download (1)
Airdate_200401_LitS_Arron_Hardie_epi1_pt_3_of_4.mp3
43,243k
320kbps Stereo
Listen
Airdate_200401_LitS_Arron_Hardie_epi1_pt_4_of_4.mp3
Download (1)
Airdate_200401_LitS_Arron_Hardie_epi1_pt_4_of_4.mp3
25,876k
320kbps Stereo
Listen All