Program Info:Return
(Richard Sevigny)
Aaron Hardie Quartet, Episode 2
A second helping of Aaron's composing, arranging, and improvising abilities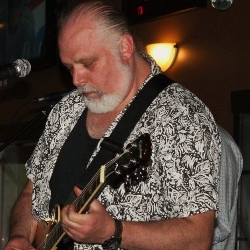 Uploaded by:
Richard is a volunteer radio producer for the Voice of the Shuswap community radio station in Salmon Arm. He has...
Length:
0:55:51
Uploaded:
29 Apr, 2020
Recording Date:
12 Mar, 2020
Recording Location:
recorded Mar 12 2020 at Nexus at First Salmon Arm
Logsheet:
none
Language:
English
Topical for:
Timeless
Status:
As Broadcast
Copyright:
Program Title: Aaron Hardie Quartet, Episode 2
Description: Once again, we'll feature saxophonist, music educator, and composer Aaron Hardie. With a couple of albums of original material under his belt, he visited Salmon arm recently, bringing drummer craig scott with him from the coast.

Host(s): Richard Sevigny
Featured Speakers/Guests: Interview with Aaron Hardie. personnel: Aaron Hardie - tenor sax, Craig Scott - drums, Neville Bowman - piano, Bernie Addington - bass

Credits: track listing
Episode 2
01 Not Just His (Aaron Hardie) 6;48
02 Big Bertha (Duke Pearson) 6;28
03 Fine Line (Aaron Hardie) 7;17
04 What is This Thing Called Love (Bill Evans/Paul Motian/Scott LaFaro) 6;55
05 Serpent's Tooth (Miles Davis) 5;12
06 By Day (Aaron Hardie) 6;03
07 Just This Morning (Aaron Hardie) 3;49

Comments: Originally broadcast on CKVS Voice of the Shuswap 93.7 FM Community Radio
Topic:

Arts and Culture


Type: Weekly Program

File Information
Listen
Airdate_200408_LitS_Arron_Hardie_epi2_pt_1_of_4.mp3
Download (1)
Airdate_200408_LitS_Arron_Hardie_epi2_pt_1_of_4.mp3
38,368k
320kbps Stereo
Listen
Airdate_200408_LitS_Arron_Hardie_epi2_pt_2_of_4.mp3
Download (1)
Airdate_200408_LitS_Arron_Hardie_epi2_pt_2_of_4.mp3
25,748k
320kbps Stereo
Listen
Airdate_200408_LitS_Arron_Hardie_epi2_pt_3_of_4.mp3
Download (1)
Airdate_200408_LitS_Arron_Hardie_epi2_pt_3_of_4.mp3
36,426k
320kbps Stereo
Listen
Airdate_200408_LitS_Arron_Hardie_epi2_pt_4_of_4.mp3
Download (1)
Airdate_200408_LitS_Arron_Hardie_epi2_pt_4_of_4.mp3
33,588k
320kbps Stereo
Listen All